Youth Climate Action Now Corvallis Chapter
By Bianca Curtin and Jessica Hovermale
The Corvallis chapter of Youth Climate Action Now (YouCAN) has stemmed from a similar basis to that of the Eugene organization, both of us representing an aligned outlook and goals regarding the advancement of environmental protection in our communities. YouCAN - the group we've dedicated ourselves to- gives youth an opportunity to engage in local government and create policy change that affects our futures, and the futures of those come after us. YouCAN continues to give us a platform to be involved in a group that collaboratively cares about similar environment-preservation-centric subjects, and takes weekly action on those particular causes.
Ordinances our chapter has been fixated on as of late comprise both the Climate Recovery Ordinance (CRO), and Business Resource Recovery Ordinance (BRRO). As we communally develop and enhance their more minute details, we're ultimately striving toward a healthier Corvallis, one day hoping to spread our legislative-reach to Benton County as a whole. The BRRO has been devised to ensure that local establishments - multi-family/tenant-occupied commercial properties, businesses, schools, organizations, hospitals, soup kitchens - compost and recycle all of their compostable and recyclable refuse. The ordinance thus far has paid special attention to the accurate separation of these products, as well as annual check-up orientations, all of which we desperately hope will cure a crisis countless are yet to realize is, in fact, a crisis.
As we were advancing on our CRO during 2018, we were also working alongside the Climate Action Advisory Board (CAAB) in Corvallis. This board -erected by the City Council to succor in dealing with environmental concerns in Benton County- was established in 2017 and has been in action since February 2018. Through attending their meetings and conversing with members of the board one-on-one, we have come to learn more about how local government functions. These opportunities to attend City Council, as well as CAAB assemblies, have also offered us increasingly realistic views of how policy change works - especially useful to us, regarding our city ordinances, for which we've received constructive feedback from the CAAB.
As a team, YouCAN Corvallis has also been involved in a variety of county events focused on youth outreach. We have hosted multiple of these ourselves, during which members of the community were encouraged to attend and learn about YouCAN and our mission. These panels have provided youth opportunities to address an audience about subjects they feel fiercely passionate about. We have also fixated upon the participation of school events associated with students. We spread the word about our program whenever we're in attendance, and have even taken part in local elementary school science fairs, where we had the chance to educate children about the significance of our carbon footprint.
In Corvallis, YouCAN gives us the opportunity to make changes in our own lives. Recently, we have been writing letters to our school board, advocating that they fill a district position focusing on sustainability. We presently lack one, an absence that leads a great many issues to be overlooked. Within this next month, we will be present at the school board meeting in order to testify on these concerns, delivering the letters to the head of the board. These are the opportunities YouCAN has and will proceed to provide to us, so that we ourselves can grow, along with making an impact on the local level.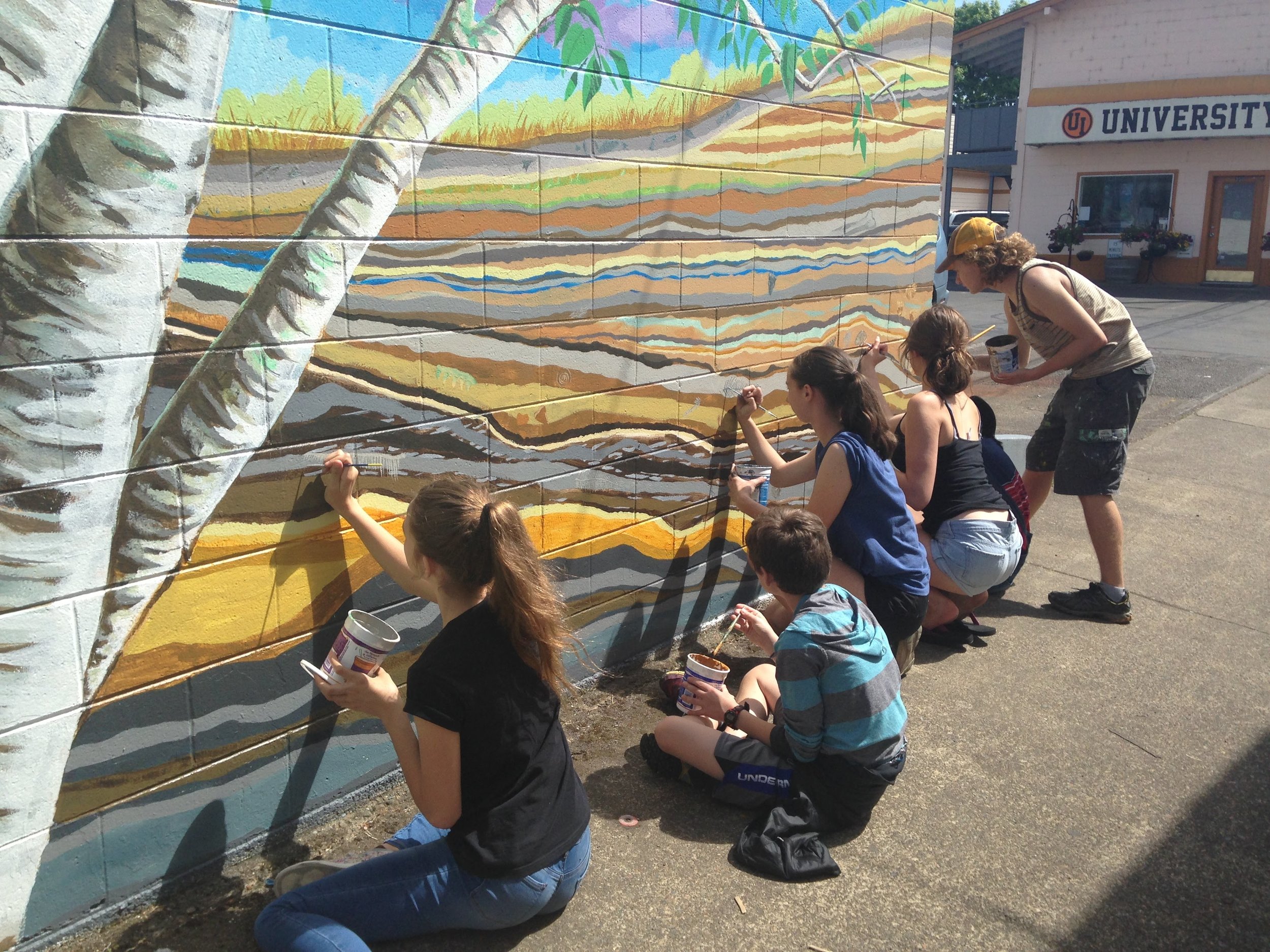 Through YouCAN, we have also been able to translate our passion for the environment into art. Amidst the Spring of 2018, we collaborated with the wonderful artist Esteban Steffensen in the creation of a mural that reflects the values of the YouCAN Corvallis chapter. We initially met with Esteban through a video call, and later on in person, where he aided us in plans for the mural we envisioned. He listened to our brainstorms, and then helped bring them to life with design. The mural -titled Walking Lightly Through Time- depicts three kids strolling through nature, immersed in flora and fauna native to Corvallis. It exhibits the layers of Earth, marked by footprints of species past and present. We worked diligently for three weeks to make the piece a reality. It was an amazing experience, being able to create something significant to us whilst also engaging with the community. At the reveal of Walking Lightly Through Time -documented in an article by our local news service- we each shared its meaning to us.
YouCAN, too, has received a couple of recognitions from varying figures in the short time we've been an establishment. On October 25th, 2018, at the 6th annual Environmental Issues Advisory Committee (EIAC) public forum, YouCAN received the Benton County Environmental Award. It was an honor to become apart of the EIAC's wonderful nominated individuals and organizations that have greatly contributed to Benton's advancement towards environmental goals. Click to read an expansion on this article. Then, during the prelude to his town hall this Thursday, January 3rd, Oregonian Senator Jeff Merkley was joined by three of our youth leader representatives from YouCAN while he recognized our work and presented us with the American flag that previously flew aloft the State Capitol, symbolic of this honor. The Gazette-Times addressed this matter in an article; "Following his usual practice, Merkley took a moment... to recognize the efforts of a local organization doing good work in its community. In Philomath, it was the Corvallis chapter of Youth Climate Action Now, or YouCAN, an offshoot of Our Children's Trust working on climate issues." - We could not be prouder.